Last Updated: May 16, 2021
Studying Engineering in the US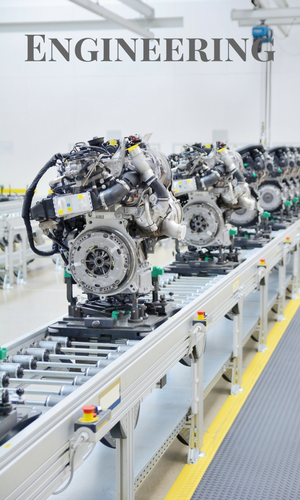 Engineering is a field chosen by students who love to understand the way the world functions, break down the different factors and also remodel them into things that can provide a life of ease to humans. This field provides the student with the option of being creative in the areas they like allowing them to use science to find solutions for the problems that are given to them. Engineering is a vast field from which students can choose to specialize in their area of interest going as far as being a scientist or letting them become a professional right after graduation.
Students who proceed with their interest in Engineering may choose from the primary branches of Civil Engineering, Chemical Engineering, Mechanical Engineering, and Electrical Engineering. Each of these primary branches have different subsections each of which can be made a specialization by the student. The subsections for Engineering include
Aeronautical Engineering
,
Astronautical Engineering
,
Nuclear Engineering
,
Ocean Engineering
,
Construction Engineering
,
Architectural Engineering
,
Biomedical Engineering
,
Industrial Engineering
.
The
Accreditation Board for Engineering and Technology (ABET)
accredits college and university programs in engineering and engineering technology. ABET accreditation is based on a program's faculty, curriculum, and facilities; the achievement of a program's students; program improvements; and institutional commitment to specific principles of quality and ethics. Graduation from an ABET-accredited program may be required for engineers who need to be licensed.
Admission Requirements for Engineering Courses
Due to the professional nature of the course, Engineering courses generally require similar prerequisites for applying to colleges and universities. It is recommended that before applying to any institution for Engineering, students check if the college or university is ABET certified. The
Top Ranked Universities for Engineering
will require students to have a decent GPA along with their score reports for GRE or SAT.
Students will also require transcripts from the places they have previously studied in along with letters of recommendation. If they aspire to get in for courses like MS/Ph.D. they will also require research experience in order to receive admission.
Benefits of Studying Engineering
Engineering aspirants who wish to study in the US will be able to find that this professional course offers them unlimited possibilities in the job market. From being able to specialize in the field of their choice at an early stage to receiving high-paying salaries after graduation, they will be able to mold their lives in the way they desire. Universities in the US provide students with the option of taking up a major in their field of interest from the third semester letting them move on with their education rather than study the basics until they choose to continue their education with a Master's degree and a Ph.D.
Apart from working as an Engineer in their respective field of study, students from this field will be able to easily traverse through the fields of Business, Law, Logistics, or take up certifications courses that can further specialize them in different fields offering them career opportunities in various other fields.
Engineering Disciplines and their Subdisciplines
Over the years, the number of students taking up Engineering degrees has increased drastically with the NCES reporting that in the academic year of 2017-2018 almost 122,000 students were awarded Engineering degrees.
The four main disciplines under the field of Engineering are Chemical Engineering, Civil Engineering, Electrical Engineering, and Mechanical Engineering. Each of these fields has various subdivisions under them that mostly combine other disciplines to it in order to let the student focus on individual aspects they can specialize in more than receiving a general idea of the course. The subdisciplines of each section are as follows-
Civil Engineering
The field of
Civil Engineering
broadly deals with environments that are physically and naturally built. It deals with the construction and sustenance of architectural setups with specializations. Their study focuses on all construction-related aspects of both the public and private sectors which include roads, tunnels, dams, buildings, etc. It is often required that they complete a graduate degree in order to stand out in the job market and get paid better with the option of getting promoted to senior positions.
In the year 2019 along there were almost 21,938 degrees awarded in the US alone with the in-state public tuition fee average accounting for up to $8,091 and the out-of-state private tuition fee accounting for up to an average of $46,950. Students in this field mostly complete their undergraduate degrees and move on with their careers. This is due to the fact that the average salary for Civil Engineers is estimated to be around $88,570.
The specializations and subdivisions that come under Civil Engineering are as follows-
Geotechnical Engineering
Structural Engineering

Earthquake Engineering
Wind Engineering

Transport Engineering

Traffic Engineering
Highway Engineering

Utility Engineering

Subsurface Utility Engineering

Water Resources Engineering

Hydraulic Engineering
River Engineering
Coastal Engineering
Groundwater Engineering

Ecological Engineering
Sanitary Engineering
Wastewater Engineering
Common Courses for BS/MS in Civil Engineering
The courses that are dealt with in Civil Engineering are mostly-
Environmental Engineering Design
Project Evaluation
Engineering Mechanics
Project Management
Dynamics
Fluid Mechanics
Statics
Strength of Materials
Engineering Economics
Chemical Engineering
Chemical Engineering
deals with the production and study of products making use of chemical processes. They will have to both create the equipment necessary for their study and process chemicals in order to produce valuable goods. They often include subjects like biology and physics along with mathematics to the principles of chemistry in order to create innovative and essential products. They often only require a bachelor's degree for receiving high paying jobs.
In the year 2019, almost 14,406 chemical engineering degrees were awarded to students in the US with the median in-state public tuition accounting for $8,824 and the median of out-of-state private tuition at almost $50,800. The average salary that Chemical Engineers receive is around $108,540 per year according to the US Bureau of Labor Statistics. The specializations in this field broadly are-
Biomolecular Engineering

Genetic Engineering
Biochemical Engineering
Engineering of DNA and RNA

Materials Engineering

Crystals Engineer
Biomaterials Engineering

Process Engineering

Petroleum Refinery Engineering
Paper Engineering

Corrosion Engineering
Common Courses for BS/MS in Chemical Engineering
The common courses offered by universities for Chemical Engineering are-
Polymer Science
Drug Development
Biomechanics
Electrochemistry
Chemical Kinetics
Organic Chemistry
Physical Chemistry
Sustainable Energy
Mechanical Engineering
Mechanical Engineers deal with the design and development of machines, tools, and engines that are required to solve existing problems. They will also be required to redesign devices that exist by upgrading the existing features and eliminating performance inhibitors from the equation. Their job often includes office work and sometimes even in the worksite depending upon the problem they are dealing with.
It is one of the most popular Engineering courses with 47,405 students receiving their graduation in the year 2019. The median in-state public tuition fee for the course is $7,697 and the median out-of-state is estimated to be $40,407. The average salary of a Mechanical Engineer is around $90, 160 according to the Occupational Outlook Handbook in the year 2020. The subdivisions and specializations in the field are-
Acoustic Engineering
Optometric Engineering
Thermal Engineering
Sports Engineering
Vehicle Engineering
Power Plant Engineering
Energy Engineering
Common Courses Offered for BS/MS in Mechanical Engineering
The common courses offered for Mechanical Engineering are-
Calculus Based Physics
Dynamics
Differential Equations
Mathematics
Statics
Electrical Engineering
Students from this field are expected to deal with electrical equipment from the basic design of it to the development, maintenance, and supervision of the equipment that has been created. They work both in the public and private sector and their work is often away from worksites and is confined to offices.
Electrical Engineering is the second-most popular course in the Engineering field with around 31,384 students awarded with their degree in the field in the year 2019. The average in-state public tuition fee is around $8,047 and the average out-of-state private tuition fee is estimated to be around $42,842 by Data USA. The average salary of an Electrical and Electronics Engineer is estimated to be $103,390 by the US Bureau of Labor Statistics.
The different specializations available under Electrical Engineering are-
Electronic Engineering

Control Engineering
Telecommunications Engineering

Computer Engineering

Software Engineering
Hardware Engineering
Network Engineering

Power Engineering
Optical Engineering
Common Courses in BS/MS Electrical Engineering
The common courses offered in Electrical Engineering in most universities are-
Analytic Geometry
Biochemistry
Calculus
Chemistry
Computer Science
Other Popular Engineering Courses
Some of the popular courses in Engineering apart from the primary courses are as follows-
Petroleum Engineering
This field of Engineering is mainly associated with the extraction and processing of both crude oil or natural gas and is a sector that has no shortage in its demand for employees. Engineers from this field can receive high-paying jobs with only a Bachelor's degree. They will be able to work in both public and private sectors by either contributing to the existing method of extracting crude oil and natural gas or by creating new methods for the same.
The average salary of a Petroleum Engineer is $137,330 according to the US Bureau of Labor Statistics.
Computer Engineering
Computer Engineers
have to deal with computer-related research in order to design and develop computer components and systems. Their discipline integrates both electronic engineering and computer science for the development of technological things. The hardware they develop includes memory chips, hard disks, optical drives, input and output devices, modems, switches, etc.
The average salary of a Computer Engineer is $119, 560 according to the Occupational Outlook Handbook.
Biomedical Engineering
Biomedical Engineering
deals with a combination of engineering and sciences in order to design and develop software. They often work in research facilities. This field had around 12,001 students graduating in the year 2019 according to Data USA. Biomedical Engineers or Bioengineers receive an average salary of $92,620 per year.
Find more about Engineering as a career.
Top Universities for Graduate Programs in Engineering
Massachusetts Institute of Technology
Stanford University
University of California-Berkeley
California Institute of Technology
Carnegie Mellon University
Some Facts on Engineering
Mechanical Engineering is most popular degree in US. Around 47,405 Undergraduate Mechanical Engineering degrees are awarded each year. Only 15,891 computer Engineering Degrees (BS) are awarded each year!
Maximum degrees (BS) are awarded from following Colleges: Engineering Univ. of Illinois, Urbana-Champaign, Georgia Institute of Technology, Virginia Technology, Purdue University. They are the largest Engineering programs in US.
Around 60,000 Masters (Engineering) are awarded each year. 9,000 of them are Computer Science Degree (which takes largest share in Master's Program).
Overall engineering employment is expected to grow by 4 percent over the 2018-28 decade, about as fast as the average for all occupations.
Job outlook for Aerospace Engineers (2018-2028) is slower than average.