Most Popular degrees & majors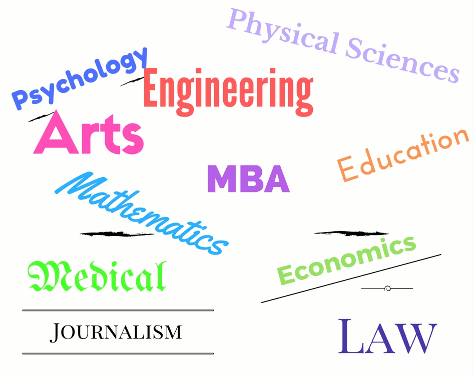 Get Yourself Enrolled for the 12 Top Majors in USA
It is the dream of every student to be a successful professional in their life. With right profession comes high-paying salary and better life conditions. To achieve the same, it is indispensable for the young scholars to decide on their major upon which they can have a command. When they have decided their primary course of study, they need to work hard with dedication towards getting enrolled for the same into the leading universities. The students of the US are always searching for the best majors/courses for which they can apply to ensure a prosperous career. What are the Major Courses You can Take Up?
1. Nursing:
Many aspiring students who have a zeal for the field of Medical Science can choose Nursing as their major course of study. This career option is in high demand owing to the greater concern for the human beings about their health. It entails the practical aspects of the Medical Science field and deals with the study of medicines, health care, human health, science, anatomy, public health and similar subjects. The students can strive to become professional registered nurses (RNs) for which they will have to undertake a degree in Bachelors of Nursing or a diploma. The field of Nursing has a high pay scale to offer with annual salary as close to around $69,000 approximately.
2. English Literature:
The students can pursue a higher degree in English literature with a motive to become affluent writers, communicators, and thinkers. The scope of the study of this major entails wide range including education, writing, marketing, and to add to the trend - online content or freelance writing. The English literature professionals usually get an annual salary of $65,000 approx.
3. History:
This is a broad major which helps the students to know more about the past events. There stands a wide choice of career options in this field including teaching, research, communications, politics, law - to name a few. The average salary for a history graduate sums up to around $65,500 approx.
4. Accounting:
The students who enjoy Mathematics and Statistics might take up this major course for their higher education. There stands a greater scope for development in this course of study including working independently as an accountant, managing small or big financial organizations, being a financial advisor and much more. Accountants are highly paid with an average salary of $76,000 approx and find employment in all booming economies around the world.
5. Biology:
It makes an interesting career option to become a doctor or medical scientist. The students have to study informative subjects like biochemistry, genetics, microbiology, plant anatomy, genetics and similar ones. They can strive to become professional medical doctors, scientists, veterinarians, educationists, etc. average salary is seemingly high of $69,000 approx.
6. Arts and Science:
A student pursuing a degree in Arts & Science have to study different subjects of interest to them which might be environmental science, biology, history, art, communications and more. The scholars can become professionals in the desired of their interest. Their average salary under this discipline sums to $62,000 approx. It is also known by different names like Arts and Humanities, Liberal Arts and Sciences, etc.
7. Professional Education:
This is a valuable major for anyone looking for a career in teaching. The students who pursue their major in Teacher Education and Professional Development are expected to understand the deeper concepts of a particular subject analytically to become a subject teacher or professor. They are also taught the psychological aspects of a child or student for effective teaching in future. This profession accounts to around an annual income of $35,000 approx.
8. Psychology:
It is an exciting major course of study, and many students are enticed by the study of the human behavior. They can pursue their career in education, research, counseling, public health or business. The average of Psychology professional can be $61,000 annually.
9. Business Management:
It is another vital major taken up by the students which require honing the essential skills needed to manage a business organization efficiently. The professionals such as Business managers, logistics, marketing, finance, human resources and much more are always in high demand by the organizations worldwide. The professionals get a high pay of around $72,000 annually. It has become one of the most sought after majors over the world.
10. Computer Science:
With the technological boom, there is a high demand for this discipline of study. The computer professionals can strive to become professional programmers, testers, software and mobile app developers, hardware, and networking operators. They get a high pay of around $70,500 annually.
11. Political Science:
It is another inspiring subject course which involves the study of politics of the government of the respective countries worldwide. This topic has a great scope for significant roles in the government sectors including public and foreign affairs, public policy, political philosophy and much more. They have a high pay scale of more than $70,000 annually.
12. Chemical Engineering:
Another major course of study which is opted by the students is a field in Chemistry with the study of which they can undertake a career in chemicals, pharmaceuticals, food, and petroleum. They are usually paid an annual salary of around $60,000.
STEM degrees are hot, and the government is pushing hard to go for STEM degrees. Your starting salary can be really good if you have a degree in Science/Math/Engineering/MBA/Economics. Getting a degree in above areas may cost you a fortune, but it's a one-time investment. Top 10 college majors (popular among students) are Economics, MBA, Psychology, Education, Computer Science, Biological Sciences, Nursing, Accounting, Literature/English and Public Administration.
According to research done at Georgetown University, people with graduate degrees have less unemployment rate(3%.as compared to BA/Undergrad degree, 5%) in most of the occupations/majors. Undergraduate degree in healthcare is more employable than a graduate degree.
Note: Things change with market conditions, it's currently bad time for Architecture graduates (with the collapse of housing/construction market), it's improving now.